IF YOU ARE THINKING OF BRINGING
YOUR DOG ON HOLIDAY WITH YOU TO
HARMONY COUNTRY LODGE
Although our cats, Jack, KC and Honey, would perhaps think otherwise, we welcome guests' pets, by arrangement, if they are well behaved and not likely to disturb other guests. We regret that we must restrict our invitation to a maximum of two small dogs or one medium breed. Being an octagonal house, our rooms are not spacious and therefore we would not wish your comfort to be compromised.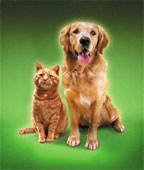 A few polite requests for dogs to remind their human friends about when coming to our home. For hygiene considerations we request that you bring your dog's own clean bedding and not to allow them on our beds. In respect of our cats and the wildlife that like to visit, please keep your dog on a lead in the grounds, and whilst in the house please keep them on the lead through the public areas. Dogs are not permitted in the dining room at meal times. Please note we do not have kennels here and we would appreciate you not leaving your dog in the bedroom unattended. In consideration of other guests, dog's toilet arrangements should be made outside our grounds please. There is a doggy walk on the roadside to the right of our entrance. Scarborough has a dog fouling policy and therefore please observe the necessary by-laws concerning dogs in public places and be prepared to clear up after your dog. Your dog remains under your responsibility and although we don't think there will not be a problem, any damage will be charged to your account. There are many places nearby for pleasant walks for you and your pet around the surrounding countryside. Dogs are permitted on parts of Scarborough beach at certain times of the year.
There is a charge of £6 per dog per night (£20 maximum for your stay) if your dog is staying in your room.
We hope you and your pet will enjoy your stay with us.