RETREATS
WHEN YOU FEEL YOU DESERVE A BREAK.
We have always felt that Harmony is a retreat because of its location and wonderful views, and many people have also found they simply want to come here for a quiet time of rest and relaxation, and to leave the stress of modern life behind for a while.
For those seeking a break with a difference, we feel we can offer a peaceful retreat. 
If you just want to relax, read and generally get some peace and quiet in your life then maybe we are part of the solution.
Our special afternoon teas are available if ordered at breakfast time, or before you arrive if you do not wish to go out for a meal on the day of your arrival.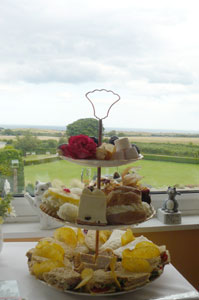 WE LIKE TO PUT THE 'TREAT' BACK INTO RETREAT!
REGULAR WEEKLY EVENTS
We offer healing free of charge every Wednesday afternoon 3pm to 4:00pm. We have the services of a team of registered healers, most of whom originally came as patients. We never say we can offer a cure, as the human body is both complex in itself and also subject to environmental and personal influences. However, we find it can help and no healing is ever wasted.
For those who are interested in learning more, we have a spiritual time from 1:30pm to 2:30pm on Wednesdays prior to healing. All are welcome and details can be found on our 'What's on' page at www.harmonychurch.co.uk
If anyone is interested in future events please contact us, preferably by email and you will be sent details with no obligation on your part.